At Home Pediatric Rehabilitation
The pediatric rehabilitation is a branch of medicine that provides physical treatment programs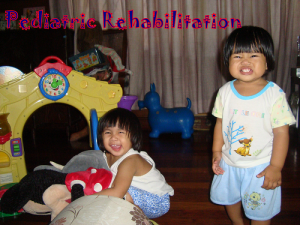 for disabled children to help them become independent or nearly independent to do their daily activities  and improve their quality of life. Most of our pedia patients are special children who  suffer from neurologic conditions like cerebral palsy or Down syndrome, and who are having difficulty in controlling their movement. The cause of this condition could be congenital or traumatic on their early stages of development.
We do our rehabilitation programs in a family-centered environment, so that we can easily understand the child's behaviour with the help of his or her family. Whenever we provide home service therapy, we get a better chance of evaluating the real situation of the patient. And this enables us to come up with treatment programs appropriate to the patient's natural surroundings and needs.
The usual treatment that we give are managing the spasticity and strengthening the weak muscles through gentle passive stretching exercises. We also give play therapy to easily get their attention and to encourage them to move. We train our patients to walk with or without any assistive device.
Our group of physical therapists in Rehab Experts provides physical therapist home service for pediatric patients throughout Metro Manila. We have handled several patients in Taguig City, Makati City and Parañaque City. If you have a child who has a disability feel  free to contact us and we are ready to give your loved one the quality care they much deserve.