Non- Surgical Scoliosis Correction Center

Are you sufferring from scoliosis and your doctor said the only option you have is surgery?
Are you tired of going to physical therapy, chiropractor or to any physical treatment, yet you have not seen any improvement?
Have you tried different and costly braces but nothing worked?
No need for costly and painful surgery.
We have a new method for correcting your scoliosis without resorting to surgery.
Backed by evidence and clinical studies to be 90% effective in helping scoliosis patients.
We have many patients who have seen improvement after a few treatments.
A scoliosis is a lateral curvature of the spine which causes deformity and different complications in the body. There are two kinds of curvature the C type and the S type. Most cases of scoliosis are idiopathic which means have unknown cause.
The Truth about Scoliosis Surgery

When the cobbs measurement of scoliosis exceeds 40°, the patient is now a candidate for surgery. Surgery is the usual method recommended by the physician. But unknown to many, surgery offers little help for the correction of scoliosis based on empirical data and studies. Patients who have undergone surgery, after 22 years their X-ray reveal a return to the same curve prior to their surgery. The corrective rod that is set may break or attract corrosion. The patient also experience a 25% reduction in their spinal range of motion.
Sources:
1. Idiopathic Scoliosis: long-term follow-up & prognosis in untreated patients J Bone Joint Surg Am 1981 Jun;63(5):702-12
2. Radiologic findings and curve progression 22 years after treatment for AIS Spine 2001 Mar 1;26(5):516-25
3. Corrosion of spinal implants retrieved from patients with scoliosis J Orthop Sci 2005;10(2):200-5
4. The Effect of Scoliosis Fusion Surgery on Spinal Ranges of Motion: a Comparison of Fused & Nonfused Patients with Idiopathic Scoliosis Spine 2006;31(3):309-314
Why Choose Us?
We are experts in scoliosis correction. We are certified in employing the different proven methods for scoliosis correction, like Scroth Best Practice and other exercise disciplines.

Our program has a 90% success rate.

We use intensive treatment for scoliosis.

We provide non-surgical scoliosis correction that is proven to be safe and effective.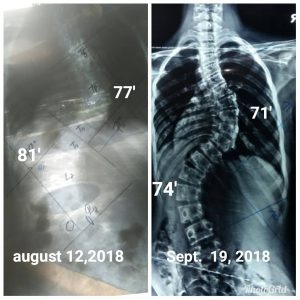 The Traditional Treatments
The conventional physical therapy and spinal manipulation (employed by most chiropractors) do not help in correcting scoliosis. These methods only help the patients relax, strengthen and stretch their muscles and ligaments, but too much of this can have a long- term adverse side-effect for the scoliosis patients.
If you have a patient suffering from scoliosis, and the doctor says that the only option is a painful, risky, and costly surgery, and you have exhausted conventional treatments like bracing, physical therapy, and chiropractic approach, and you find no marked improvement, why not try our now method for scoliosis correction?
Limited to 20 patients only.
Clinic:
Quad B 1432 Centuria Medical Makati
Century City
Kalayaan Ave. Corner Makati Ave.
Makati City