Fracture Rehabilitation At Home

Fracture is the occurrence of fissure or breakage of the bone due to trauma. This causes intense pain on the part of the patient. First aid is necessary to a patient with fracture in order to properly align the bones and avoid complications.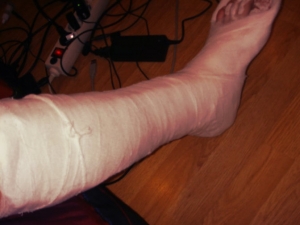 There are two kinds of fracture: the close and the open fracture. A close fracture is one where there is no cut on the skin, while an open fracture is characterize by a cut which exposes the fractured bone. An orthopedic doctor may treat a patient by providing him or her a cast or by recommending surgery depending on the severity of fracture.
Once the fracture heals, it is the orthopedic doctor that gives the clearance which means the patient may begin physical therapy. It is the physical therapist who helps the patient regain his or her flexibility, strength and function.  If it is the lower extremities that have been injured, the physical therapist  will teach the patient the right way to walk, and the proper way of using assistive device, and climbing and going down stairs.
We at REHAB EXPERTS will teach the patient the different proper exercise regimens to hasten the healing process of fracture patient. We have more than 11 years of experience in giving quality service to people who have fracture in Quezon City, Marikina, Pasig, Mandaluyong, San Juan, Makati, Taguig, Pasay and Manila. We have high recovery record of sports patients. We have equipment that we use in order to provide our patients the best possible treatment at their home similar to those found in rehab clinics. All our physical therapists are duly licensed.