Home Service Physical Therapist In Makati City
Makati City is the center of business and industry in Metro Manila. Here you will find the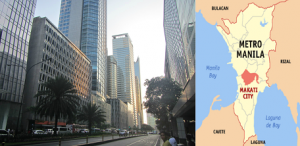 different big establishments like malls, banks, hotels, restaurants, entertainment centers and the Philippine Stock Exchange. . You will also find here most of the headquarters of multinational companies. Because of these Makati is considered the financial capital of the Philippines.
Makati is one city in Metro Manila that has the largest population. Most people here work in offices. Most of the residents live in condominiums and have a sedentary lifestyle.
Because of the kind of lifestyle the people of Makati have many of them develop physical disabilities like back pain, carpal tunnel syndrome, arthritis, stroke and others. Based on our record of patients, the most common cases we handle in Makati are back aches and carpal tunnel syndrome. This is due to works that require long sitting hours at the office and the prolong use of computers.
We at Rehab Experts provide home service physical therapist in Makati City. Our physical therapists or physiotherapists are very flexible in setting appointments with their patients, schedules which adjust to the patiensts' busy work schedules.
The ammenities offered by condominiums of our patients from Makati are also used to help our patients improve their health and hasten their recovery period.  We  at Rehab Experts believe that a healthy people are the best partners for progress.