Home Physical Therapist In Pasig City
Pasig used to be the capital of Rizal Province when it was not yet a part of Metro Manila. It gradually developed from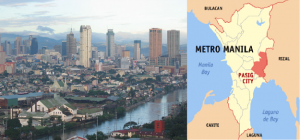 being a vast residential area into a major commercial and financial center. Here you could find Ortigas Center with its tall buildings and business offices. Pasig also has a lot of big factories. It is also in Pasig where you have PhlSport Complex, formerly known as Ultra, which served as a venue for the basketball games of the Philippine Basketball Association (PBA). It is also famous for the Pasig River, the river which connect Laguna Bay with Manila Bay.
Many residents of this city work in factories. Since Pasig saw a ploriferation of commercial areas, you find many people here working in offices and call centers. Pasig is second only to Makati in terms of number of office workers.
Because of the nature of their work, many residents of Pasig suffer from different physical disabilities. Based on our records, most of our patients from Pasig suffered from back pain, arthritis, stroke and sports injuries. One cause of these is their sedentary lifestyle. Then there are those who suffered from sports injuries for lack of proper preparation before the game.
We at Rehab Experts have been providing physical therapy home service to the residents of Pasig for more than 10 years now. Since Pasig is famous for its world class sports facilities, we use these to help our patients with the strengthening exercises they need. In public gyms here, we also hold seminar demostrations to athletes on plyometrics to help them avoid incurring sports injuries.
If you are a resident of Pasig suffering from physical disability, we at Rehab Experts are ready to provide you with quality service. We will give our best to help you recover from your physical disability.